Top Take-Aways from San Diego Pain Summit 2019
The San Diego Pain Summit is a multi-disciplinary conferences where clinicians from across the globe come together. The summit brings together leading researchers and practitioners to explore the latest in pain research and learn how to provide better outcomes for patients.
What is the San Diego Pain Summit?
A Summit of great speakers, attendees you would pay a lot of money to have lunch with, and warm sunshine.
I don't see where you can go wrong.
A wide range of speakers and content presented over 2 days plus the pre-conference courses.
You might say this is all the 'soft skills' but after listening to the patient panel, I think the 'soft skills' should actually take a large place in our curriculum, learning, and HCP training.
San Diego Pain Summit 2019 Highlights:
1) Maxi Miciak, PT, PhD - Being Begets Doing: Establishing the Conditions Necessary for Cultivating Therapeutic Relationships
What evokes a sense of safety is non-verbal, non-threatening behaviours.
Maxi use the analogy of a container to create conditions of engagement – "being" creates a safe container.
The base of the container is being present – being in the "here and now". How can you be present with your patients?
Find ways to 'actively land' with patients
Regulate our own nervous systems as therapists
Preparation
Block out or 'park' distractions from our own lives
Use breathing techniques to help ground yourself
There's a difference between rushed and being busy. Patients respect busy but are 'rubbed the wrong way' when we're rushed.
Here's how to manifest an open attitude:
Be willing to listen and be curious
Give space, don't fill space
Suspend judgment and don't discount the story
Summarize and synthesize in your own words
2. Shelly Prosko spoke about compassion and started her talk by leading a loving-kindness meditation.
According to the Oxford Dictionary, the definition of compassion is the "sympathetic pity and concern for the sufferings or misfortunes of others".
"If your compassion doesn't include yourself, it's incomplete." - Jack Cornfield
What is Self Compassion?
Mindfulness
Kindness (i.e. what do you need in this moment?)
Common Humanity (i.e. you're not alone)
"Rather than harshly judging oneself for personal shortcomings, the self is offered warmth and unconditional acceptance." - Kristin Neff
In other words, being kind to ourselves in good times and bad, in sickness and in health — and even when we make mistakes.
Having self-compassion means being able to recognize the difference between making a bad decision and being a bad person. When you have self-compassion, you understand that your worth is unconditional.
So, why aren't we always as compassionate as we want to be (with both ourselves and others)?
We have fears, resistance, and barriers.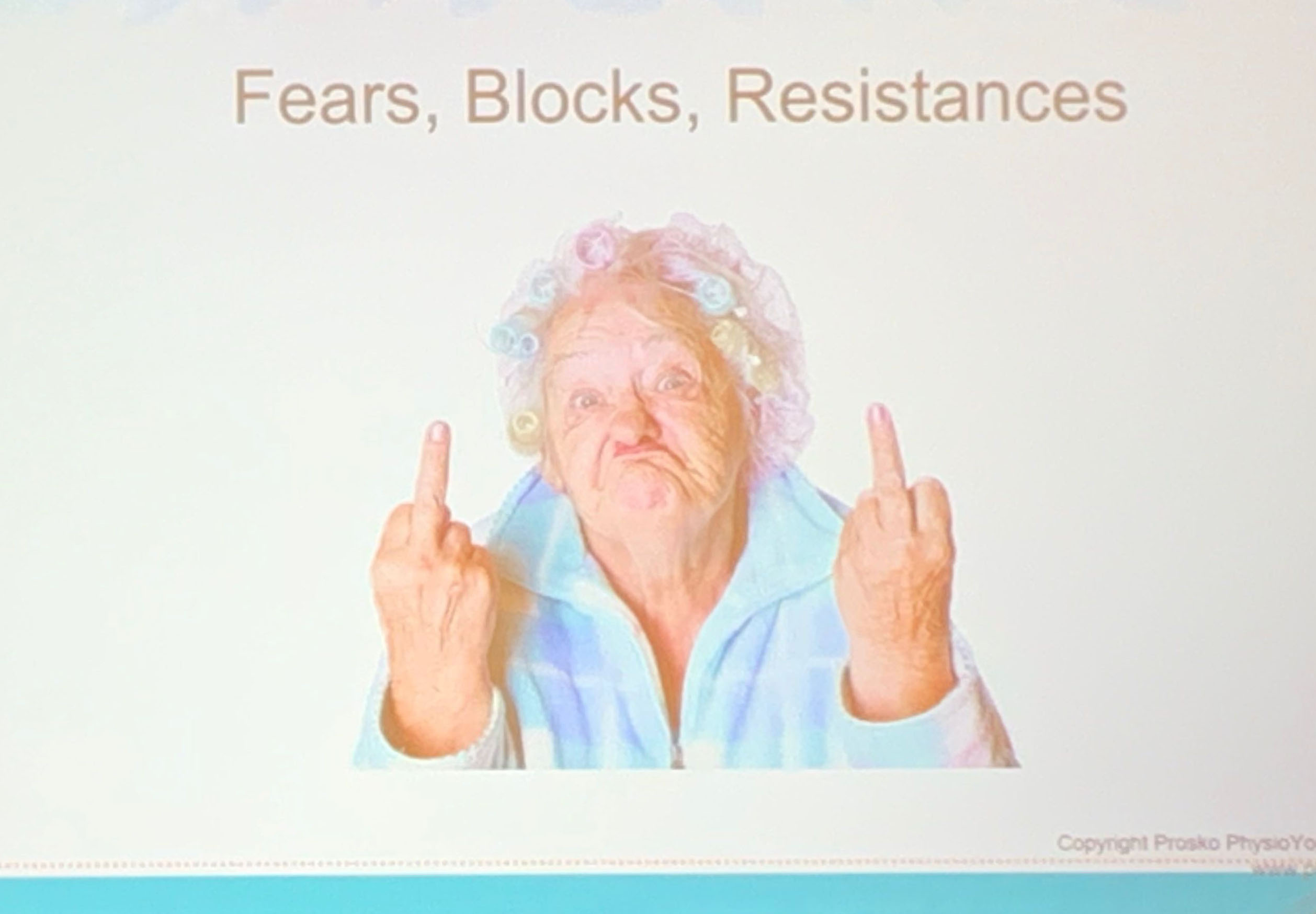 Empathy is a competency and compassion is an emergent process. It cannot be trained but it can be primed (Halifax 2012).
There are 6 domains to compassion:
Attentional
Affective: cultivate awareness of our own emotions
Intentional
Insight: cultivation of #1-3 can lead to a clear understanding of the person in front of your
Embodiment
Engaged: this is compassion in action
Compassion is the wisdom that results from priming the 6 domains. Compassion can include doing nothing – when we rush to fix without validating the persons' pain experience we may do them more harm.
Resources:
Free ebook: Compassion: Bridging Practice & Science
A loving Kindness Meditation by Shelly Prosko:
3. Antonio Damasio, MD, PhD – About the Physiology of Feeling
Feelings are the images of our inner world.
Our experience of initiating, executing and controlling thoughts and actions is a central tenet of human phenomenological experience. Agency binds our thoughts and actions to our ownership and could be a key dimension of subjective feelings (Nummenmaa et al., 2018)
If you missed the San Diego Pain Summit but would like to watch the presentation, they can all be found on Embodia by clicking here.
Shelly Prosko
PT, C-IAYT, PCAYT
Shelly is a physiotherapist, yoga therapist, educator, author and pioneer of PhysioYoga who has been integrating yoga into physiotherapy since 1998 with a focus on chronic pain, pelvic health, compassion in healthcare and professional burnout. She guest lectures at numerous yoga therapy and physiotherapy schools, presents at yoga and medical conferences globally, contributes to academic research and writing, provides mentorship to professionals, and offers courses and resources for yoga and healthcare practitioners and the general population. Shelly is a Pain Care Aware Lead Trainer.
She considers herself a lifelong student and emphasizes the immense value gained from clinical experience and learning from the patients she serves, the professionals she teaches, and the colleagues with which she collaborates.
Shelly has written several book chapters in yoga therapy and integrative rehabilitation textbooks and is co-editor/author of Yoga and Science in Pain Care: Treating the Person in Pain. She maintains a clinical practice in Sylvan Lake, Alberta, Canada and believes compassion is the foundation of healthcare and overall well-being.
Learn more about Shelly's work at www.physioyoga.ca to learn more